In Office Balloon Sinuplasty For Chronic Sinusitis Palm Beach, FL
What is sinusitis?
Sinusitis is an inflammation of the sinus lining. If the sinus opening becomes blocked due to this swelling, normal mucus drainage may not occur, and this may lead to recurrent sinus infections and chronic sinusits. Sinusitis can be acute, lasting for less than four weeks, or chronic, lasting longer than 12 weeks. For either condition, please contact us for a complete evaluation and diagnosis.
What are the common symptoms of sinusitis?
Common symptoms of both acute and chronic sinusitis include:
Facial pain
Tenderness and swelling around the eyes, cheeks, nose and forehead
Sinus pressure or congestion
Difficulty breathing through the nose
Loss of the sense of smell or taste
Sinus Headache
Yellow or green mucus from the nose
Tooth pain
Fatigue
Sore throat from nasal discharge
How is sinusitis treated?
Sinusitis can be treated non-surgically with medications such as antibiotics or nasal steroid sprays. For people who do not respond adequately to medical therapy or do not want to be on medication for long periods of time, procedures to improve the sinuses are very helpful.
Traditional sinus surgery removes bone and tissue to enlarge the sinus opening with the aim of clearing blocked sinuses and restoring normal sinus drainage. This usually involves general anesthesia and a longer recovery.
Balloon Sinuplasty is a breakthrough, minimally invasive procedure that Dr. Lipan uses to treat patients with chronic sinusitis. A small balloon is placed into the nose to reach the blocked sinuses and then inflated to restructure the sinus opening. The procedure is safe, effective and has a quick recovery.
Sinus Surgery with Balloon Sinuplasty
Unlike traditional sinus surgery, Balloon Sinuplasty requires no cutting and minimal removal of bone and tissue.
Balloon Sinuplasty (BSP) uses a small, flexible, balloon catheter to open up blocked sinus passageways and facilitate drainage of the mucus that builds up in patients suffering from chronic sinusitis symptoms.
When the sinus balloon is inflated, it restructures and widens the walls of the sinus passageway while maintaining the integrity of the sinus lining.
Balloon Sinuplasty is Performed In-Office
Balloon Sinuplasty is now available to eligible patients as a procedure performed in our office, under local anesthesia. Dr. Liapn will recommend the best approach for you.
Often patients present with a combination of chronic sinusitis, septal deviations, turbinate hypertrophy and Eustachian tube dysfunction. Dr. Lipan often combines treating all of these issues at the time of in office balloon sinuplasty, thus avoiding the need for future procedures. His advanced in office procedures increase the success from the procedure by creating a custom treatment plan for each patient.
Step 1. A balloon catheter is inserted into the inflamed sinus.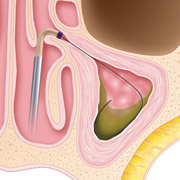 Step 2. The balloon is inflated to expand the sinus opening.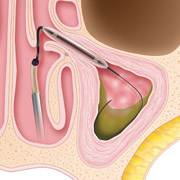 Step 3. Saline is sprayed into the inflamed sinus to flush out the pus and mucus.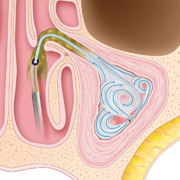 Step 4. The system is removed, leaving the sinuses open.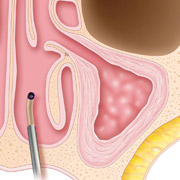 Benefits of Balloon Sinuplasty In-Office
Local Anesthesia

Balloon Sinuplasty In-Office is an option for patients as a way to avoid the risks of general anesthesia.

Fast Recovery

While recovery time varies with each patient, most patients who undergo the in-office procedure can return to normal activities and work within 2 days.

Comfortable Surroundings

Experience the procedure in the comfort of your physician's office rather than a hospital operating room.

High Patient Satisfaction

The majority of patients who had Balloon Sinuplasty In-Office would recommend the procedure to family and friends.

Potential for Significant Cost Savings

Some eligible patients may have lower out-of-pocket costs if the procedure is performed in a lower cost of care setting, such as a physician's office
Is Balloon Sinuplasty Right For You?
Please answer a few questions below to see if Balloon Sinuplasty may be the right choice for you. If you appear to be a candidate, we recommend you make an appointment for evaluation and treatment.
Do you experience any of the following symptoms? (Check all symptoms you experience):
Facial pain
Facial pressure
Sinus headaches
Discharge of yellow or green mucus from the nose
Congestion
Decreased Sense of Smell
Insurance Coverage
Most insurance companies and Medicare cover Balloon Sinuplasty. Our staff will provide detailed information based on your insurance to best guide you through this aspect of the procedure.
Balloon Sinus Dilation Video Animation